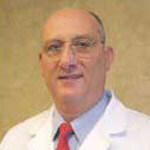 "Belldon Colme's understanding of metabolic processes is unrivaled. Belldon's message is where you want to start to truly understand how wellness, weight loss and core health work."
Rafael C. Esquenazi MD, FACP, FASN, and client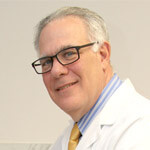 "Based on solid nutrition and solid science. Elevated fitness, weight loss, and increased energy are almost automatic. I have seen not only weight loss but improved health overall both for myself and many of my patients."
Dr. Larry Cohen, client
Clients' Journey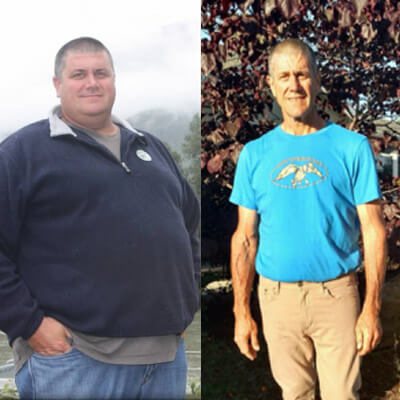 "I gratefully replaced my old size 54 pants, off my body and out of my closet, for my new size 32!"
Tony Perkins | Santa Cruz, CA
425lbs – 196lbs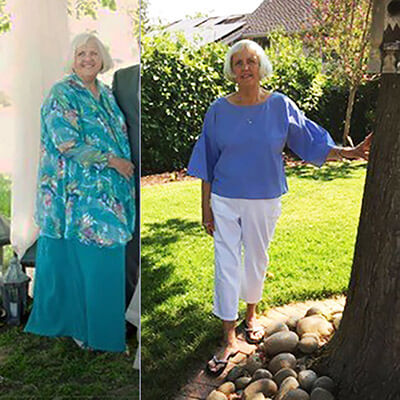 "I am now down to two heart medications… My cardiologist does the happy dance when she sees me!"
Anne Seacrist | Monte Sereno, CA
262lbs – 165lbs
"I have been on maintenance now for about two months and have had no shifts in weight more than a couple of pounds up or down. My ideal weight has been easy to maintain, and my diet is not restrictive – it's just better organized."
Clients' Review
Kristyn Donellan
So let me be clear with my 5 star rating of, 'I loved it'. I loved the fast and lasting results of weight loss and improved health. (I was sometimes angry and didn't love it when I wanted to eat things that would not lead to success). Commitment is the key to success, but the quick results are a great motivator. I lost 60lbs in about 7 months. I maintained that weight about another 6 months but as my zen went askew, I slowly started gaining weight. A seven lbs gain later and I reached out to Belldon for help. His positive, can do attitude and coaching has helped me find my way back. In 3 months, I've lost the 7lbs plus an additional 7 lbs. I'm now 3lbs from my new goal weight and hope to reach that weight before the end of this cycle. So here is the gig, if you are truly committed to health and in turn, weight loss then give Nutritional Fitness a shot, you will not be disappointed.
Liane Freeman
I have struggled with my weight for years and had yo-yo dieted right into obesity. I joined Nutritional Fitness in April 2016 and by the end of the year had dropped over 60 lbs. I reached my goal of 74 lbs in March. I feel great and best of all, Nutritional Fitness has given me the tools to maintain my health and weight into the future. The program provided not only the plan and information to be successful, but also the supportive coaching I needed during the journey–thank you Vicki and Belldon. I am now well within my weight range with a healthy BMI. I also was able to drop the blood pressure meds I used to take. I highly recommend Nutritional Fitness to people who want to improve their health, drop pounds, and feel energized.
Norma Conntreraz
"It is with great pleasure and enthusiasm that I write this testimonial…. My weight loss journey began with Nutri 90 back in April of 2014 at the time weighing in at 199 lbs (my heaviest ever) and for a 5'1" high female my overweight was very obvious. I learned of this effective program through a colleague as she progress with her weight loss. This is my third year of maintaining a healthy and balance eating style. Nutri 90 has been without a doubt the most effective plan I have ever done! Loving my new size (8); I want to express my most sincere gratitude to my coach Belldon for his wonderful caring attitude and his guidance, not only have I benefited from direct weight loss results with Nutri 90 but I have learned the importance of total body wellness."
Rachel Ervin
I have lost 56 pounds in five months. I'm truly grateful to the Nutritional Fitness Weight Loss Program. There was a lot of frustration in the beginning and challenges, but the coaching and information Belldon sent me truly set me up for success. You will get out of this program what you put into it. I've learned so much about myself and my body and foods. I feel so much better physically and mentally about myself. I'm looking forward to continuing with the program to reach my goal weight. Finally, I've found what works for me. Thank you NutritionalFitness!
Michelle Smith
I have lost a total of 23 lbs and have kept it off for 10 months. It is great and really works. Why I have love it? There is no secret pill, it's all about nutrition and a new mind set for life. Will start in Feb again for another 10lbs to be at my BMI that I'm comfortable with. Let's do this!!!
Gail Groves
I have dropped 74 pounds of fat so far through good solid nutrition, good coaching, and lots of practice at maintenance. I would recommend this plan to anyone. It works best if you have time to cook and prepare things at home, but we have also eaten lots of grilled chicken over greens with plain balsamic in restaurants. Hold the dressing.
Deborah Raven-Lindley
As a small farmer, I feel I know something about food. I used this program to lose ten pounds in ten days. No gimmicks, just good hydration and a carefully planned, nutrient dense menu of good produce and lean proteins that let my metabolism use stored body fat quickly. But more than the weight loss, this program changed my understanding of food… Processed and junk food in particular. I now no longer consume those foods, and I understand why that is important. I cannot recommend enough the education this program provides… And for almost no money, by comparison to the pills and commercial diet plans where everyone wants you to buy their special powders and supplements for hundreds of dollars or more. Very satisfied!
Vicki Barnes Fitch
I tried Nutritional Fitness Wellness as a last-ditch effort. I have Hashimoto's (hypothyroid autoimmune) disease and try as I might I could not drop the 20 lbs. I wanted to take off no matter what I did. Turns out a lot of the food I was eating was making my thyroid issue worse and thanks to this program I learned how to eat for optimal health AND I dropped those 20 lbs!! This is a lifelong lifestyle for me, and I've never felt better. Thank you!!!
Faye Grimaldo Aguilar
In May of this year I decided to take my health extremely serious. My cousin Rachel Ervin introduced me to called NutritionalFitness. Eating all whole foods and getting rid of processed foods. Yesterday I had my physical exactly 2 months since I started the new way of eating. I don't call it diet because it isn't. My doctor was astounded when she saw that I have lost 38 pounds since I last saw her in May. I had my blood work done and the nurse said I would have the results in 2 days. I just got a call from my doctor which really startled me because she has never called. She got my blood work done and was so excited to see my numbers that she had to call me. AT the rate I was going I could have had a stroke or a heart attack. My bad cholesterol dropped 40 points.. I was border diabetes now gone…sugar level dropped.. she said she had not seen this kind of turn around so that is why she had to call me!! TODAY IS A GREATTTTTTT DAY!!!! THANK YOU BELLDON!!!!..I feel great and continue my path so I can reach my weight goal!!!
Tony Perkins
The Real Deal is the simplest way to explain FFWM. No "magic pills" are needed just provide your body with real whole food and watch those unwanted numbers on your scale and waistline fly away. Yes, I do mean fly away, you will be amazed how fast it will disappear. No need for surgeries or gym time. Real food, real results! You will no longer call it a diet along your journey it simply becomes a positive lifestyle. With the help and support of your personal coach you will find it easier than anything you have done in the past. Trust me, I have tried many options with no "Real" results.
I have lost 230 lbs. in a short 15 months no that is not a typo. Coach Beldon at FFWM is there for you when you are ready for a new you and a new positive lifestyle. You can also have fun re-introducing yourself to longtime friends and family members that do not recognize you, asking the same question… Where did the old Tony go?
Vicki Barnes Fitch
I tried Nutri-90 Wellness as a last ditch effort. I have Hashimoto's (hypothyroid autoimmune) disease and try as I might I could not drop the 20 lbs. I wanted to take off no matter what I did. Turns out a lot of the food I was eating was making my thyroid issue worse and thanks to this program I learned how to eat for optimal health AND I dropped those 20 lbs!! This is a life long lifestyle for me and I've never felt better. Thank you!!!
Giovanna Sts
Was always back and forth on gaining weight, I could not keep the weight I desired. I could workout 6 days a week, but still, no control on my diet, so I never had a good body shape. I knew that what I ate was a big part of that. "Thats when I decided to join Nutri-90!!! It was the best thing I did! I now have the knowledge of how to keep my weight. and I FINALLY see amazing results on my shape of my body!! I have my 4 pack abs I always dreamed of! "Its a simple process, that everyone can follow, its easy to learn and results come fast!! The best part is, you can learn how to maintain the weight you desire!!! That's priceless!! Thank you Nutri-90!!" — Giovanna Sts, Sao Paolo, Brazil
Francisco Davis
I highly recommend this program to anyone. It's done wonders for my wife and I.
Conni DeVita Arnold
Are you kidding me? I love this program! I'm never hungry!! Besides losing close to 40 pounds which I NEVER in million years thought I would or could do, I have gained some serious side effects:
1. More Energy
2. Sleep like a teenager!!
3. Has kept my arthritis pain at bay.
4. Let's not forget how hot I look now!
This is the program for anyone who wants to look and feel better. Besides the fact I can have my cocktails! DO IT!!
















Now, it is your turn!
Discover in minutes why you lack energy and struggle with weight, and a simple, permanent plan to get your health back.